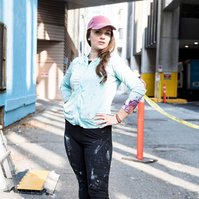 Melissa Francis (Studio120 NL Artwork)
ABOUT
Melissa Francis is an Indigenous woman (25) from Gander Bay, Newfoundland Canada, apart of the Qalipu First Nations Mi'kmaq. Focusing on bright colours and bold designs, inspired by her indigenous (Mi'kmaq) heritage. Along with bringing recognition of her home, Newfoundland, to people who have not been there, and those that have moved away by recreating memorable scenes from her childhood. Over the past several years, she has expanded her work into the world of mural arts after learning from and working with Canadian muralist Charlie Johnston on Atlantic Canada's Largest mural in Botwood, NL.
Travelling to Vancouver this past fall for a laneway transformation project with Indigenous artist Lauren Brevner and James Harry in Downtown Vancouver was an unforgettable experience for her work. Getting the opportunity to attend the Global Mural Conference and meeting artist worldwide in 2018, has given her confidence and the inspiration to continue this career path. With having done work from coast to coast in Newfoundland. Francis' most recent works across the island include; 40sq ft mural for Town of Botwood's "LaRUE" Street Art Festival, a 30ft long mural for the Town of Norris Arm, 2 8ftx8ft mural installations in Corner Brook sponsored by the Qalipu First Nations, a total of 15 public art installations within the Town of Gander (most recently being a tribute to Frontline Workers), as well as having orders for custom pieces make their homes all across Canada.
Currently attending her second year at Emily Carr University of Art and Design in Vancouver, British Colombia (via online) from Newfoundland to pursue her Bachelor of Visual Arts. With the goal set out to share her work across the province of Newfoundland, Canada and the globe, she plans to continue to take her passion for mural arts into the large scale world in hopes to be recognized internationally for her indigenous and native home artworks.